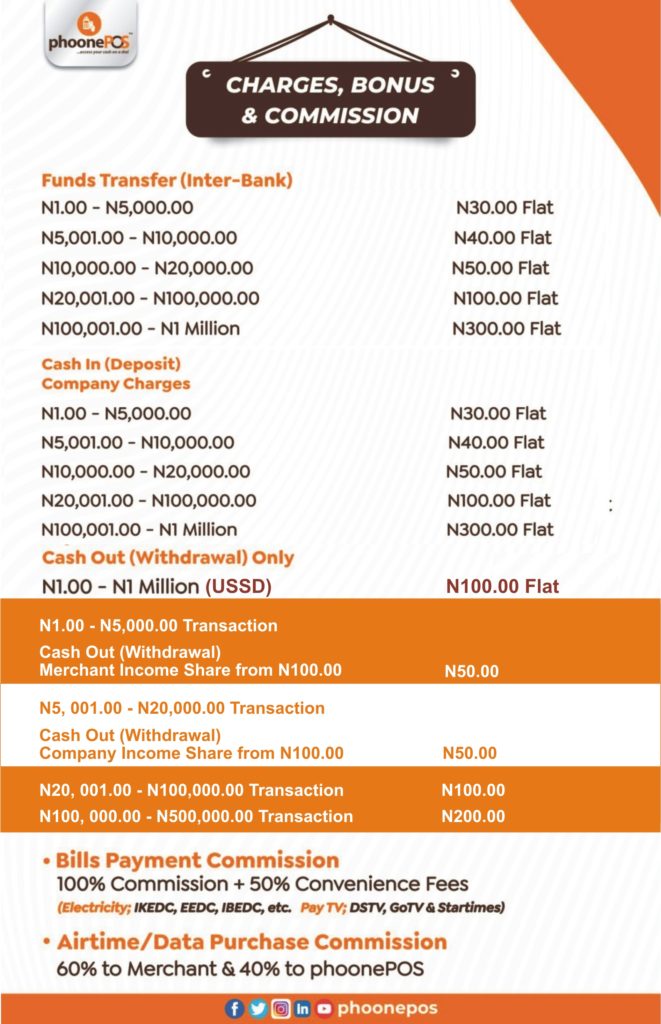 On phoonePOS, we offer the best commissions and incentives. From Bank Account Opening and ATM Card issuance, to Funds transfer, Cash In, Cash Out etc.
We shall take time to explain how our Charges, Bonuses and Commissions work.
ACCOUNT OPENING & ATM Card Issuance; Zenith, Wema, Stanbic-IBTC, FCMB.
We have Aggregator and Super Agent relationship with these banks. Which means our merchants can offer Account opening services on behalf of the different banks and earn huge commissions. However, the commissions earned for these Account Opening vary from bank to bank. In some instances, the merchant earns as high as N200.00 for every bank account opened. Again, for ATM Card issuance, the merchants make a prepayment for order based on the bank's threshold and the cards are processed and sent to the merchant in whatever location they are across Nigeria.
FUNDS TRANSFER (INTERBANK)
Our merchants earn commission from Funds Transfer services offered on phoonePOS. Merchants are allowed to do Funds Transfer services on behalf of their customers from N1.00 – N500,000.00 for individuals per week.
When they do these transfers, there are different charges. In this instance, When a merchant does a Funds Transfer transaction between N1.00 – N5,000.00, the merchant is charges only N30.00 by phoonePOS. The merchant is permitted to charge the customer a N100.00 tariff band. What this implies is that, the merchant makes N70.00 in such a transaction. As the merchant offers higher amounts for Funds Transfer, they earn higher commission net of the charges of phoonePOS.
Aside earning commissions on transactions on phoonePOS, our merchants also earn CashTokens for every transaction they carry out on phoonePOS.
WHAT IS A CASH TOKEN?
phoonePOS – CashToken is an electronic reward or celebratory gift commodity that offers the opportunity for 'LIFE-CHANGING CASH REWARD'. Here, our Merchants and customers earn rewards for using phoonePOS. For every service that your offer to customers as a merchant, once you meet a specified threshold, you earn CashToken points, when those points mature, you earn CashToken. Guess what? Once you earn CashToken, you become qualified to win between N5,000.00 – N100 Million in a draw that shows on National Television every Friday of the week.
Its important to let you know that bigger brands like MTN, Airtel, Glo etc. give all these rewards to their loyal customers too.
CASH IN (CASH DEPOSIT)
Similarly, merchants earn commission for Cash In transactions. Anytime a customer approaches a merchant for a Cash In service, they earn commission. An example is when the merchant wants to do a Cash deposit of N10,000.00, the merchant is likely to charge the customer about N200.00. In this case, phoonePOS would charge N40.00. So invariably, the merchant earns N160.00 from that transaction.
CASH OUT (USSD CARDLESS POS)
This is the flagship of the phoonePOS brand. With our Mobile Phones, without the use of ATM cards, our merchants can offer Cash Out services to their customers in any location in Nigeria. As long as the phone has a memory of at least 2GB ROM, its good to go for phoonePOS Mobile money operations.
The Cardless POS service is 100% driven by USSD technology and is secure, which most Nigerians are already familiar with. All that is required, for the merchant to do a Cash Out transaction, the merchant will ask the customer, which bank do they use. Once the customer mentions their bank, the merchant would login to the phoonePOS App, under the Cash Out menu, generate a unique string of USSD code. Eg. If the customer's bank is First bank, the merchant would generate a code that looks like this; "*894*000*1234#". Once the merchant generates this USSD code, the merchant would tell the customer to dial the string of code on their mobile phone, once the customer dials the string of code, it would show the details of the merchant with the amount plus charges. Then tell the customer to input their bank PIN to authorize that transaction. Once the customer inputs their bank PIN, it would move cash from the bank account of the customer and deposit same into the phoonePOS Account of the merchant. The merchant would then check in the transaction menu, to ensure the transaction was successful. The merchant can screenshot, download, email the receipt of that transaction and give to the customer, there and then.
Interestingly, when the merchant achieves a threshold of transactions under the Cash Out, they also earn CashTokens. This CashTokens they earn, enables them to be able to win between N5,000 – N100 Million is a draw that shows on African Independent Television (AIT) every Friday evening.
If you like phoonePOS, do not forget to like our Pages on our social media platforms; Facebook, Instagram, Twitter, LinkedIn to know more about our offerings.